Are you looking for a few fun and engaging Earth Day activities for students? If you are like me, these little holidays tend to sneak up on you. I'm left at the last minute trying to come up with some fun and meaningful things to do with my class. If this sounds like you then you're in luck! I have a lot of earth day activities to help get you started….and a freebie if you read to the end!
Want a FREE Earth Day trifold? Just click the image below to download now!
Plan an Earth Day Family Celebration
This is my students favorite earth day activity! Students pretend they have been hired to plan an Earth Day celebration for family members. They are in charge of planning Earth Day activities that are fun for the whole family and also help educate people about Earth Day. This is a great way to get younger students to take accountability for taking care of the earth.
In this hands-on activity, students use the preplanning page to draw or write down ideas that they have. Next, they use the template to create a brochure that advertises their Earth Day Family Celebration!
The best part is this activity can be differentiated. There is a version that tells students specifics that their celebration must include such as location, times, prices, number of activities, food choice, etc. The easier version allows students to just include what they want.
If you're worried that your students may not be able to come up with ideas there is even an idea sheet with examples to help get them started.
Earth Day Books
These are some books my class reads every April. They can all be found on Epic where you can create a free account and assign the books to students to read. Some of them even have the option to be read to the students. Or you can just project the books and read as a class together.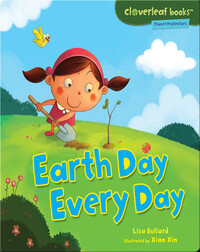 Math Earth Day Activities for Students
My students love a good color by number to practice any math skill! These cute little boy and girl Earth Day color by numbers will have students practicing addition within 20. They are a fun way to incorporate environmental topics in math and work for kids of all ages!
Earth Day Videos
Here are some free videos you can show your class to help them learn about Earth Day!
Printable Earth Day Activities for Students
Earth Day Trifolds
This Earth Day trifold will have students practice finding text evidence while learning what Earth Day is all about and what they can do as kids to help our Earth to create a better future. You can download this for free!
Earth Day Flipbook
I love this flipbook about recycling. Students learn all about recycling and the three Rs (reduce, reuse and recycle). They will find text evidence to answer questions about recycling and recyclable materials and then write a letter to the school about what they think the students should do to celebrate Earth Day. They finish the flipbook off by coloring the boy and girl coloring page on the back. It is a creative way to gets students participating in meaningful earth day activities where they discover how they can take care of our earth!
Earth Day Foldable Coloring Book
If you just want something quick and simple, you can use this foldable coloring book to help students learn what Earth Day means.
Earth Day Writing Prompts
These writing prompts are another one of my favorite Earth Day activities I do with my class every year. It comes with a writing rubric and adorable little boy and girl paper toppers. I don't know about your class but writing is hard for my kiddos. They don't know how to get their ideas from their head to paper in the correct order and how to make their sentences flow. This activity includes a prewriting page for students to get their ideas down along with examples to help them write an opening and closing sentence. You can let your students choose which writing prompt they would like use!
This makes it easy for them to take their sentences from the graphic organizer in order and put them on handwriting paper. Then they use the rubric to check a friends work. I let my higher students do this alone with a partner and my lower students complete this part with me at the table so I can guide them.
Conclusion
I hope you are able to use some of these earth day activities for students in your classroom this year to tackle environmental issues! Don't forget to download the comprehension trifold freebie! Comment below and let me know what you do for Earth Day and which fun activities you are going to try.